How On The Money Wheel works.
Welcome to On The Money where one spin can make your dreams come true.
We designed this regal purple wheel to make you feel like a king or a queen and to do three critical things for your online business.
1 – Give you a way to get massive traffic to any product or service that you promote online.

2 – Give you a way to build a list and mail to that list daily.

3 – Give you a way to run your own business without incurring the costs of programming, or script maintenance or server costs or having to maintain a payment processor. We do all the set up for you and you pocket the money.

Let me explain how it works.
You see that Gold wheel below. It has 16 prizes slots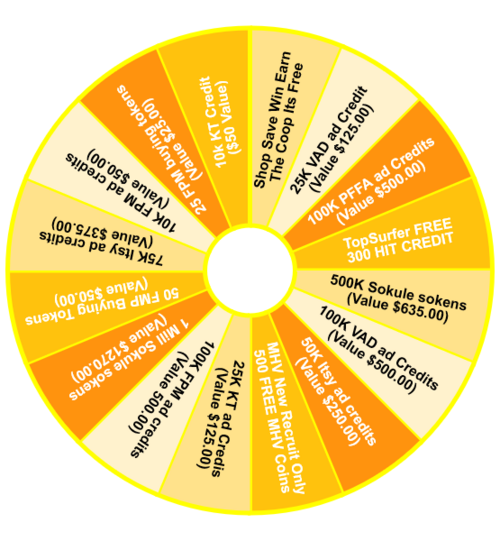 To see how it works, Give the wheel a spin , and you will win one of the prizes on the wheel, and if that's all you want to do, you can join the site free, collect your reward and start receiving more traffic.
Let's say you purchase one of the 16 slots for your product giveaway. Now you have a compelling and effective way to promote your site.
And let's imagine you could decide what prizes you want to give away, how many you want to give away, and put them on the wheel. Well, now you can. You can purchase as many slots as you wish. Heck, you can even buy the entire wheel.
On The Money is part of a trio of sites two of which are feed into a site called Kule Traffic.
When you have a product or service on the Wheel you will gain huge exposure for that product or service.
1 – It will be seen when your sponsor promotes the wheel.

2 – It will appear on our main Kule Traffic site on the Kule Profits page. Your product will get noticed.

3 – It will appear on the OTM wheel in the member area.

After you sign up to collect your prize, we give you the ability to purchase as many slots as you like on the wheel, and this is where the money part comes in.
You can purchase a wheel of your own and add all of your products in the 16 slots, or you can keep a few of the spots for yourself and sell all of the other slots and collect nice fat commissions.
We call this a customized or branded wheel. We set it all up for you. You will be able to add your logo. You will be able to give your customized wheel any name that you like. You will be able to choose a different color scheme for your wheel and,
When you sell slots on it or sell a customize wheel, you will earn 40% of the sale.
Anyone who signs up through your wheel will end up in your downline at the main site Kule Traffic, and you can contact them daily through the downline mailer in your Kule Traffic account.
Anytime you get the chance to own a product, do it.
At On-The-Money, you can brand the wheel with your name and logo. You don't need to worry about doing the setup work or maintain the wheel, and you can have a very lucrative business online without the hassles, the headaches, the start-up costs, or the overheads.
Phil and I know all the headaches, the hassles, and the costs of maintaining websites online, and we decided that since we have this know-how to do all that is required, we will do it for you, and that's how On-The-Money-Wheel was born.
Spin the Wheel, Read the one time offers as you sign up. If you can swing it buy the whole wheel and make it your own.
This wheel is a great way to build a business online. So enjoy On-The-Money-Wheel and make it your own source of wealth.